USE CASE
Disaster Recovery
Disasters happen — and companies of all sizes generating and managing mission-critical data need to be prepared to maintain business continuity.
One of our clients currently hosts over 3,000 disaster recovery (DR) events annually, and a lack of regulatory compliance can trigger millions of dollars in penalties and customer attrition each year.
Confidence provided clearly documented workflows for 9 of our client's unique institutional customers, and this client now sees improved pre-event preparation, streamlined event execution with real-time communication, and instantaneous OCC-compliant reports, resulting in less customer downtime and attrition.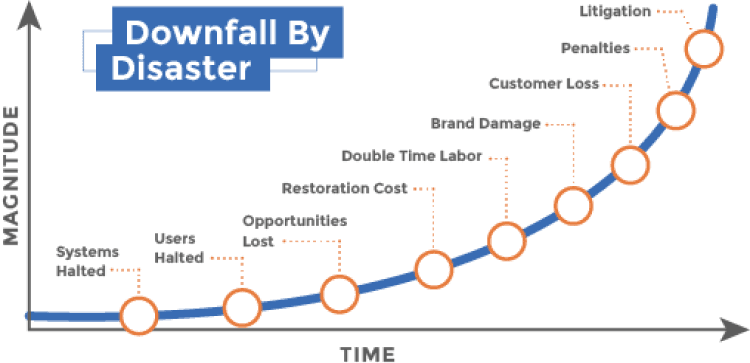 Pre-Event Preparation:
DR Runbooks are infrequently updated resulting in improper testing procedures

Runbook maintenance is a strenuous, labor intensive process
Disaster Recover Execution:
Runbooks lack sufficient detail to complete steps appropriately

DR coordinators are unable to measure and manage DR events in real time

Lack of communication between operators and coordinators during event execution leads to overlooked steps

Difficulty capturing and storing sufficient validation screenshots/artifacts
Post-Event Reporting:
Inability to document recovery durations and execution times promptly for key regulatory bodies

Post-Event Reporting often takes week to compile and submit to regulatory bodies

Currently unable to associate screenshot evidence with applicable tasks
Employee Attrition:
Retiring employees and shifting roles led to unrecoverable knowledge gaps on how to properly execute a DR event
Pre-Event Preparation:
24/7 secure cloud access to current DR Runbooks

Runbooks easily updated and maintained for future events
Disaster Recover Execution:
Step-by-step DR instructions with visual aids by task

Easily manage multiple DR events and assign tasks directly to operators

Live event communication

Required validation artifacts are easily attached as screenshots, PDFS, Excels, etc.
Post-Event Reporting:
Automatic reporting outlines recovery durations, DR participants, troubleshooting, and validation artifacts

Instantly compile OCC/BCIC compliant reports

Easily associate all validation evidence in screenshots and files with applicable tasks
Employee Attrition:
Tribal knowledge now captured from operators heads and documented with ease, reducing over-reliance on key performers
PREPARATION TIME
-25%
Confidence's detailed digital playbooks enable easy updates for future DR events with historical data
RECOVERY PRODUCTIVITY
+33%
Automations allow teams to collaborate more accurately, consistently, and efficiently
COMPLIANCE REPORTING
+100%
Auto-generated reports eliminate the time once spent creating audit trails and compliance documentation
get started now
Boost your Confidence level with a free 30-day trial.
With attrition rates at an all-time high, managing operational IP across the labor and productivity gap is a very real problem — but you can start taking control now.